Les financiers mesurent le risque de « redénomination » par l'écart de rendement entre les bonds soumis à la loi domestique italienne et les bonds qui sont soumis à la nouvelle loi. C'est une mesure utilisée en finance ne nous demandez pas si elle est adequate, nous ne le savons aps. Vous savez que la finance transforme tout en en chiffres.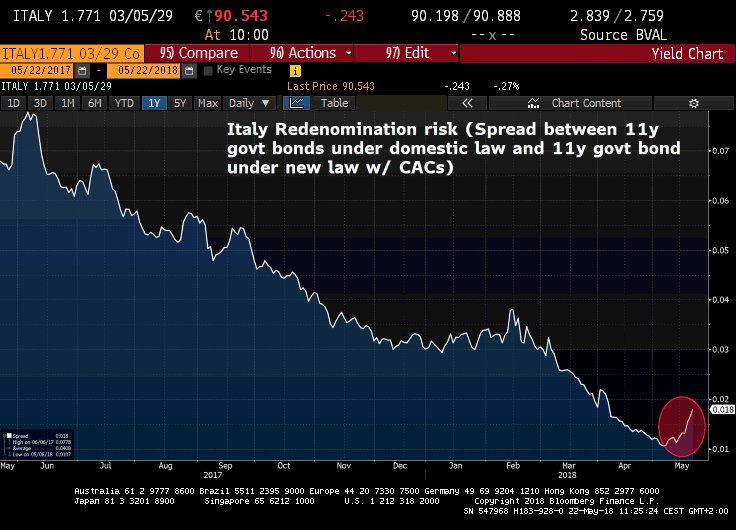 Un premier ministre « très politique » serait pressenti;
Italy's anti-establishment Five Star Movement and the far-right League have proposed Giuseppe Conte, a civil lawyer and academic, as new prime minister.
Luigi Di Maio, Five Star leader, and Matteo Salvini, the League leader, told Sergio Mattarella, Italy's president, in separate meetings at the Quirinal Palace on Monday that they had chosen Mr Conte.
Mattarella did not immediately hand a mandate to  Conte, instead summoning the two speakers of parliament to the president's palace on Tuesday.
Di Maio confirmed that they had nominated Conte, a 53-year-old little-known professor, after meeting Mattarella, and dismissed concerns that he would be a powerless technocrat.
"Giuseppe Conte will be a political prime minister of a political government, chosen by two political forces that include political figures within it. And especially with the support of two political forces that were voted," Di Maio said.
Five facts about Italy's proposed new prime minister Later, Salvini added: "We are ready — our team and our project for the country are clear . . . no one has anything to fear." .
Di Maio, who led Five Star to win 33 per cent of the vote in Italy's general election in March, had long held out hope that he would become prime minister, but had always been blocked by  Salvini.
Di Maio is still expected to be part of the government, as minister of labour and economic development, allowing him to oversee the basic income of a €780-per-person basic income.
Salvini is set to become interior minister, which would put him in charge of a new policy on immigration, including plans to deport up to 500,000 illegal immigrants.
Giampiero Massolo, chairman of Fincantieri, the state-owned shipbuilding company, and a veteran diplomat, is expected to be foreign minister in the new government, while the post of finance minister is still very much up for discussion, with Giancarlo Giorgetti, a key aide to Salvini, seen to be in pole position.
Mattarella's reticence on Monday evening looked set to stall the appointments.