Jour de BCE: on attend une accélération du pseudo money printing pour contrer la hausse des taux longs
FRANKFURT (Reuters) – The European Central Bank is likely to signal faster money printing on Thursday to keep a lid on borrowing costs but it will stop short of adding firepower to its already aggressive pandemic-fighting package.FILE PHOTO: The headquarter of the European Central Bank (R,ECB) is photographed in Frankfurt, Germany, January 22, 2021, REUTERS/Kai Pfaffenbach/File Photo
Concerned that a steady rise in borrowing costs could derail the bloc's recovery from a pandemic-fuelled recession, ECB policymakers meeting on Thursday will be keen to calm markets and recommit to rock-bottom rates until well into the recovery.
But converting that commitment into specific policy action will be a delicate balancing act.
The ECB cannot appear to micro-manage bond yields since that would tie its hands in the future and invite accusations it is shielding governments from market forces.
The euro zone's central bank will also be keen not to overstate the rise in yields, which are still low by most standards, with the German yield curve, the benchmark for the 19-country bloc, still in negative territory up to 20 years.
Having already committed to "maintaining favourable financing conditions", however, it cannot ignore the rise in borrowing costs, which has not been matched by improving economic prospects and mostly mirrors a move in U.S. Treasuries.
Bientot temps de surveiller l'or a nouveau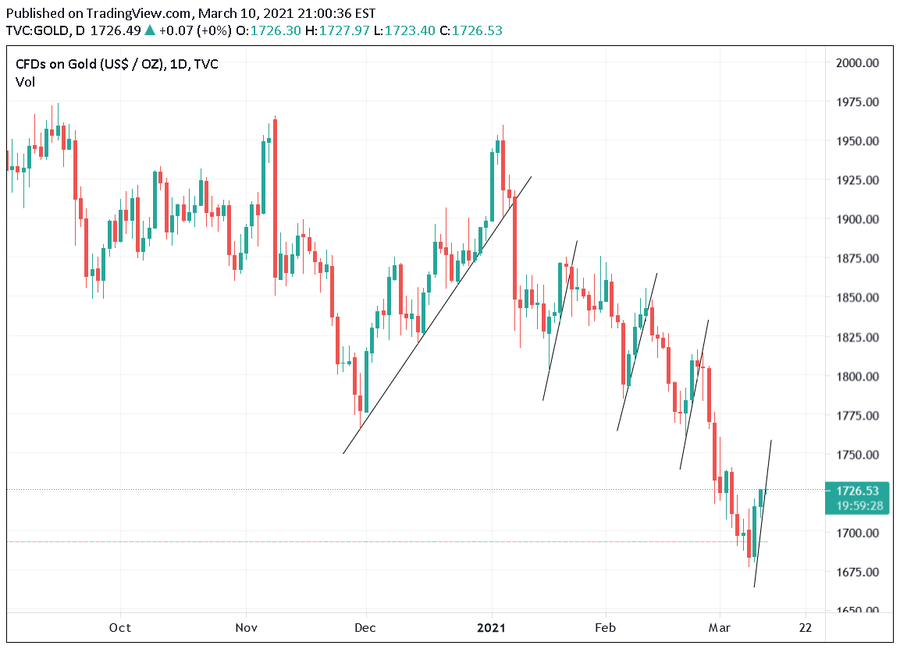 le debut du mois de mars est peu tonique/
Reuters] Asian stocks rally after Dow hits record as inflation worries ease
[Yahoo/Bloomberg] Oil Climbs as U.S. Gasoline Stockpiles Drain Amid Rising Demand
[Yahoo/Bloomberg] Gold Advances for Third Day as Stimulus, Inflation in Focus
[CNN] Brazil plunges into crisis as a second wave and deadly new variant overwhelm hospitals
[FT] ETF inflows surge past record as investors bet on global recovery
[FT] US threatens to 'take action' against China over Hong Kong law
[FT] How hedge funds are fuelling the Spac boom
[FT] Hedge fund managers Talpins and Rokos stung by February market tumult