On attend ce jour l'intervention de Yelllen, personne n'a d'idée de ce qu'elle va pouvoir dire. Si elle suggérait une hausse des taux dès mars, cela pourrait s'avérer perturbant. Notre pronostic est qu'elle va rester prudente et attentiste. 
Federal Reserve Chair Janet Yellen begins her semi-annual two-day testimony to Congress at 10:00 a.m. ET on Tuesday, and is expected to defend the post-crisis banking rules that the Trump administration has pledged to undo.
When it comes to interest rates, she is not expected to do much more than repeat the 'gradual' pace guidance that was used in the Fed's Feb. 1 statement.
---
Avertissement de PIMCO:  la Fed peut faire une erreur.
Pacific Investment Management Co. has a warning for investors: don't underestimate the chance of a misstep by the Federal Reserve.
The U.S. central bank may tighten monetary policy faster than markets expect over the next two years in part as changes to key staff affect the sway of decisions, according to Joachim Fels, Pimco's global economic adviser. Markets have ignored many risks as they focus on a potential boost from President Donald Trump's policies, he said.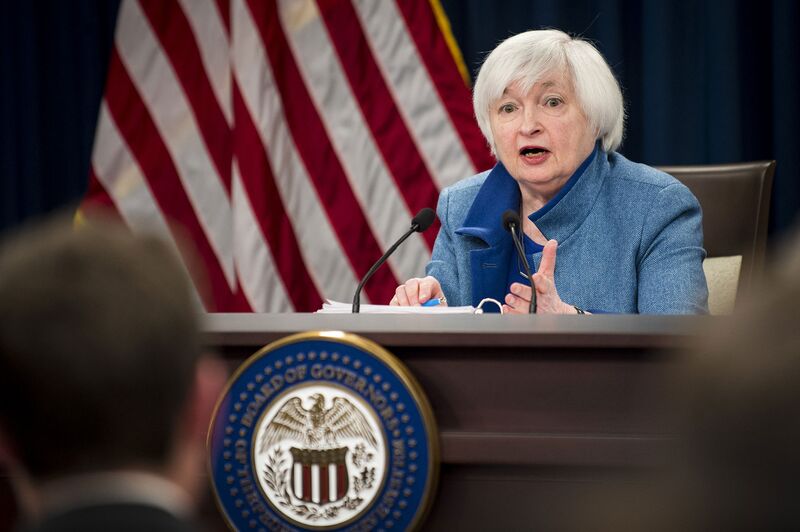 Fels joins a swathe of investors questioning the outlook for the U.S. economy as the Fed grapples with a lack of clarity from the new administration, which may get to fill a number of spots at the central bank.
BlackRock Inc. Chief Executive Officer Larry Fink and economists at Goldman Sachs Group Inc. have critiqued how pro-growth policies might struggle to emerge. Traders are awaiting appearances by Fed Chair Janet Yellen before Congress this week, with data expected to show an uptick in U.S. inflation.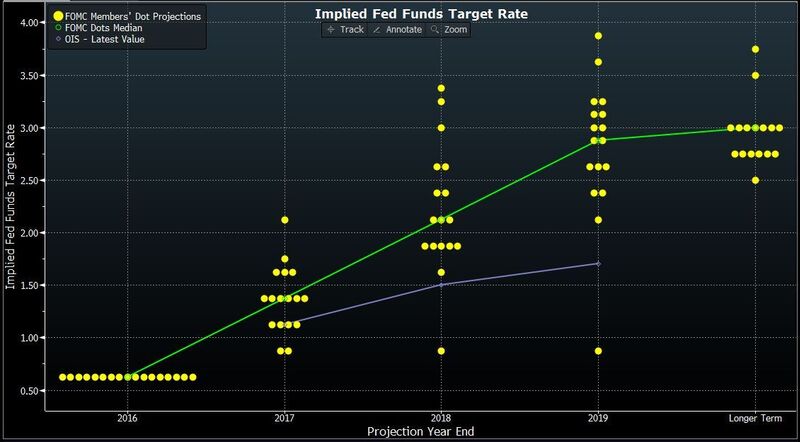 "The Fed could actually turn hawkish and tighten policy too much," Fels told a conference in Sydney Tuesday via a videolink from the firm's headquarters in Newport Beach, California. "Keep in mind that the Fed is not overly expansionary at this stage. So if you think that if we get a more hawkish Fed and that we will see more rate hikes than the market is pricing in right now, it may well be that the Fed becomes contractionary at a relatively early stage."
Fed officials, who raised interest rates by 25 basis points in December, have given no indication on the timing of their next hike amid evidence of slow but continuing improvement in the U.S. economy. The Federal Open Market Committee next meets March 14-15, with fed funds futures contracts pointing to 30 percent odds policy makers will lift borrowing costs.
Fed Governor Daniel Tarullo is stepping down in early April, paving the way for the White House to fill three of the seven seats on the Fed Board in Washington, where there are already two existing vacancies.
Pimco, which manages $1.47 trillion in assets, has reduced risk in some of its portfolios and thinks it makes sense to insure against inflation, Fels said.
---
Credit Suisse a annoncé mardi une perte de 2,44 milliards de francs suisses (2,3 milliards d'euros) au titre de 2016, la deuxième banque helvétique affichant ainsi des comptes dans le rouge pour le deuxième exercice de suite en raison essentiellement d'une grosse amende aux Etats-Unis.
Mais cela n'empêche pas l'action Credit Suisse d'être très bien orientée en début de séance à la Bourse de Zurich, les investisseurs évoquant notamment un ratio de capital meilleur que prévu et les bonnes performances des divisions banque d'investissement et gestion de fortune.
Credit Suisse a également annoncé qu'il allait encore réduire ses effectifs de 5.500 cette année après un total de 7.250 licenciements en 2016, des mesures qui entrent dans la volonté de la banque d'arriver à des économies nettes de plus de 4,2 milliards de francs d'ici la fin de 2018.
Depuis son arrivée aux commandes de la banque il y a 18 mois, Tidjane Thiam a entrepris une vaste restructuration de Credit Suisse, avec comme ligne directrice le recentrage le groupe sur la gestion de patrimoine aux dépens de la banque d'investissement, activité plus volatile.
« Nous pensons que nous sommes en bonne position pour continuer à progresser dans le cadre de notre programme de restructuration en 2017 et 2018 », précise le directeur général dans le communiqué de résultats.
Lors d'une conférence téléphonique, Tidjane Thiam a précisé que le projet d'une introduction en Bourse des seules activités suisses de la banque restait d'actualité, tout en ajoutant que le groupe restait ouvert à d'autres options susceptibles de consolider son bilan.
---
La croissance ralentit en Europe 
The euro-area economy grew 0.4 percent in the fourth quarter of 2016, slightly less than initially reported as German and Italian expansiondisappointed.
In the U.K., inflation rose to 1.8 percent in January, which was a smaller increase than economists were expecting. The pound dropped 0.5 percent to $1.2459 by 5:35 a.m. ET following the release.
Meanwhile, Chinese producer prices surged the most since 2011.
---
Plunging volume and narrowing breadth among the most popular exchange-traded funds indicates U.S. stocks are peaking, according to Tom McClellan, editor of the McClellan Market Report.
---
[Bloomberg] Stock Rally Falters, Dollar Drops as Flynn Resigns: Markets Wrap
[Reuters] Inflation picks up to multi-year highs in China as cbank eyes tighter policy
[Bloomberg] The Hidden Side to the Reflation Trade Is China's Surging Prices
[FT] Clues to look for from Janet Yellen
[WSJ] U.S. Eyes New Tactic to Press China