La hausse de la monnaie européenne va bientot se faire sentir sur la demande extérieure , tant le modèle européen repose sur l'exportation.
Ci dessous l'envolée de l'indice de la valeur de l'euro  pondéré du commerce extérieur.
Les indices boursiers européens déçoivent précisément depuis le début de la hausse du change. En fait les marchés européens n'ont abolument rien gagné depuis le debut des QE de Draghi, ni en obligations ni en actions!
Par ailleurs on commence à prendre en compte une reprise  en mains de la BCE avec une éventuelle nomination de Weidmann en 2018.
Ci dessous, Weidmann et Weber.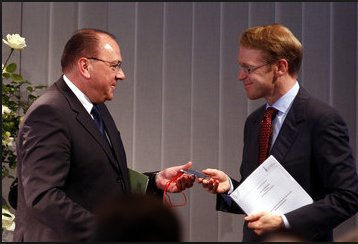 Pourquoi cette contreperfoamnce ? Parce que le QE a été fait à contretemps et nous n'avons pas bénéficié de ses effets psychologiques, tands que d'effets réels il n'y a pas.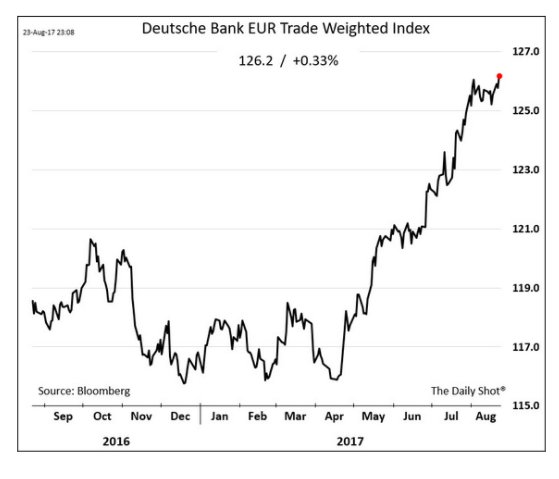 Le CAC 40 , belle déception alors que les gérants croyaient à une surperformance avec l'embellie économique, ce dont nous avons radicalement et régulièrement  douté!
En Prime: Bloomberg sur la succession de Draghi 
As the International Monetary Fund noted in updated forecasts last month, the world expansion is on increasingly firmer ground thanks to the contribution from — among others — the euro region.
With the ECB likely to soon start winding back its huge stimulus, decisions announced in Frankfurt's euro tower have enormous consequence for capital markets.
If, as widely expected, Chancellor Angela Merkel wins re-election in Germany, a slew of top European Union positions will come increasingly into play, culminating in the presidency of the ECB.
The monetary chalice has been out of reach for Berlin for reasons that have little to do with merit. Since the world wars, there has been a taboo in Europe against giving that sort of power to Germany. That's a pity, and it's surely time to reconsider that taboo. The euro zone might not have survived without the commitment of Merkel and the German political class.
Draghi, an Italian, is not eligible to serve again after his eight-year term, which ends in late 2019. If you think that's a long way off, think again. Top jobs tend to be settled by European leaders, mostly on the basis of diplomatic horse trading, quite some time in advance. By this time next year, we may well have a sense who will lead the euro into its third decade.
The ECB president is nominally selected by a vote of the European Council, the group of EU leaders. In practice, it's by a majority of the subgroup that uses the euro. How they get to that point is a little murky. Ducks are lined up in advance through a mix of consensus and horse trading of top EU jobs.
The front-runners are seen to be Jens Weidmann, president of the German Bundesbank, and Francois Villeroy de Galhau of the Bank of France. France and Germany are the two biggest economies in the region, so that should be easy, right?
Far from it. Germany's partners have traditionally been squeamish about giving it too much influence, especially because the central bank is already headquartered in Frankfurt and was developed to resemble the Bundesbank. That counts against Weidmann. But France had its turn recently; Draghi's predecessor was Jean-Claude Trichet. That will count against Villeroy.
Weidmann's undeclared candidacy becomes even more complicated when you look at his and the Bundesbank's positions on policy. The Bundesbank, founded on the idea of avoiding the type of hyperinflation that ravaged the country in the 1920s, has long been skeptical of relaxing policy too far. Quantitative easing and zero interest rates have long been anathema.
Weidmann isn't bombastic in expressing his views and has a cheerful professionalism and easy manner. He isn't a hard-money caricature. And with the ECB inching toward the QE exit, the central bank's policy thrust is moving in his direction.
Germans already serve in some European economic jobs, though none them are top-tier. Werner Hoyer was just re-appointed president of the European Investment Bank, which lends in support of European integration. Klaus Regling runs the European Stability Mechanism, which lends to aid euro zone nations and banks. And Elke Koenig heads the Single Resolution Board, in charge of winding down the bloc's insolvent banks. Koenig's term ends this year.
The ECB's vice presidency is vacant next year. If a smaller country gets the nod, that might be a sign that a bigger one is preparing a path to Draghi's job. Spanish Economy Minister Luis de Guindos says his country is underrepresented, and he appears to be courting support for the vice presidency.
Another leadership role could come open soon: the helm of the Eurogroup, the college of euro region finance ministers. Dutch Finance Minister Jeroen Dijsselbloem could be forced to relinquish that role after his party collapsed in elections earlier this year.
If Germany were to again forfeit the ECB presidency in the interest of regional balance, who to turn to if not France or Italy?
To narrow the question further, who to turn to while still satisfying German domestic political concerns that a decadent or indebted small country will get its hands on the levers and go wild?
One intriguing possibility involves Finland. On the geographic periphery of the euro zone, for sure, but also a founding member of the currency bloc. Present at the creation. Seen as nonthreatening, good Europeans.
Bank of Finland Governor Erkki Liikanen, dean of the region's central banking club, is widely respected and completes his second term in July. Finland also has Olli Rehn, former European monetary affairs commissioner and now a board member at the Bank of Finland. Rehn is a strong contender to succeed Liikanen.
If Germany again misses out simply because it is Germany, that would be a pity. The country has, appropriately, invested much in European integration. Modern Europe owes much to Germany.
Politics will never be far away, and regional compromise has been key to post-1945 Europe's success. That said, the EU should keep its eye on the future, not the past. The biggest single factor shaping the selection of the ECB's next president should be merit.