Quand un marché doit baisser, par nécessité interne, il baisse et tout n'est que prétexte. Et nous l'avons expliqué et répété, il est important de la comprendre pour ne pas faire se faire piéger sur les soi disants phases de soulagement.
Les marchés construisent une figure de retournement; c'est un processus, pas un évènement ponctuel. Cela est étalé dans le temps.
Les causes en sont simples, évidentes: ils ont monté parce que les taux étaient ultra bas et parce que les liquidités étaient surabondantes. Ce régime monétaire est en train de disparaître, nous sommes dans une tentative de normalisation. Ajoutons, même si cela n'est pas important pour le moment, que la tentative de normalisation s'accompagne de la montée du doute: de plus en plus de voix s'élèvent pour contester l'efficacité de la politique qui a été menée.
Si les taux montent et si les liquidités deviennent moins abondantes, alors la valeur des actifs financiers doit baisser, c'est mathématique. En même temps, le facteur risque augmente puisqu'il n'y aura plus assez de liquidités pour tout faire et satisfaire tout le monde et tous les usages.
La guidance des banques centrales est moins porteuse puisque leur tache est maintenant de prévenir les marchés qu'il ne faut plus compter sur les largesses. La guidance a pour objectif de les préparer au sevrage.
Les accidents vont se multiplier et ce seront autant de prétextes  pour baisser sans que ce soient les véritables causes, disons que ce seront des sortes de catalyseurs.
On a baissé sur le prétexte de la speculation imprudente sur le VIX puis sur les craintes inflationnistes, puis on a baissé sur les tarifs protectionnistes de Trump sur l'acier, puis on baissé sur les escroqueries des social medias comme Facebook; tout cela ce sont des choses graves, mais ce ne sont pas des causes fondamentales de devalorisation des actifs fnianciers, les causes fondamentales, ce sont d'abord les taux et ensuiye les liquidités et enfin la montée du risque.
D'ici quelques temps, il y aura peut-être un nouveau facteur; la révision en baisse des perspectives de croissance et celle des bénéfices. Si tout le cycle se met en route nous passerons d'accidents successifs à une vraie tendance baissière auto entretenue.
Quelques remarques en vrac:
Tous les mouvements de transition sont reversibles, les banquiers centraux peuvent décider du jour au lendemain de faire une pause dans la normalisation.
Comme nous l'avons maintes fois souligné, la diversification est une illusion et on voit bien que tout baisse aussi bien géographiquement que sectoriellement. Ceux qui croyaient que l'Europe serait à l'abri se sont une fois de plus trompés.
Il reste cependant une inconnue ou un espoir, c'est que le paradigme risk on-risk off continue de fonctionner et que les capitaux restent dans les marchés en fuyant le risque mais en revenant sur les fonds d'Etat.
Pour vous donner le moral, nous vous rappelons  que dans une optique fondamentale, la surévaluation des actifs financiers est de l'ordre de 50 à 60%.
Il y a de la marge.
Le pire est possible même si ce n'est pas le plus probable à ce stade .
---
Le motif d'inquiétude systémique: le spread Libor /OIS , il fait craindre des tensions sur le dollar funding des TBTF globales type Deutsche Bank, comme ce fut le cas fin 2015 et début 2016 .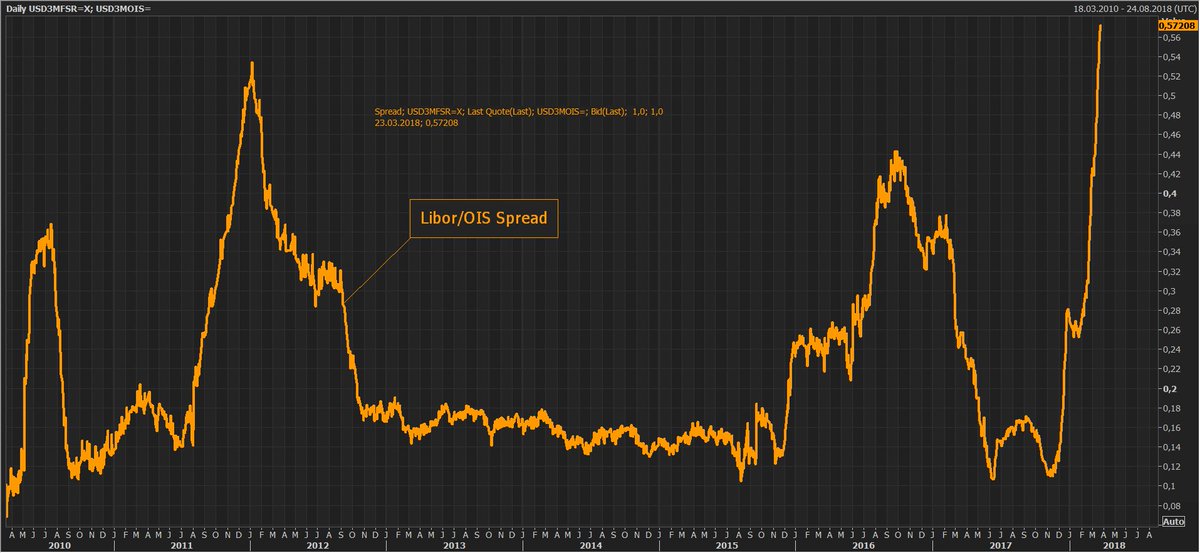 Le FT s'interroge: Powell peut il réussir un atterrissage en douceur? Une réponse plus théorique que convaincante. C'est un pari à la fois sur une inflation qui reste bénigne et une politique très fine, habile de gradualisme.
« When asked at his first press conference as Federal Reserve chairman if he would be willing to let the yield curve invert, Jay Powell initially responded that it was "an interesting question".
The rest of his answer suggested the Fed is trying to do something it has rarely done before: gradually slow the economy without pushing it into recession. The yield curve represents the cost of borrowing over different amounts of time. Lenders generally prefer getting their money back sooner rather than later, so short-term debts tend to have lower interest rates than longer-term obligations. The curve is "inverted" when short-term interest rates are higher than long-term rates. This happens when traders believe short-term interest rates will be lower in the future than they are today. At this juncture, the yield curve as measured between two and 10-year Treasury note yields has narrowed to around 0.54 percentage points, its flattest relationship since late 2007, a year when the curve was last inverted.
A recent study by the Federal Reserve Bank of San Francisco found that every single downturn since the early 1950s was preceded by an inverted curve.
Moreover, inverted curves accurately warned of coming recessions in all but one instance. Few signals have been as reliable. Powell was asked how the Fed would react to an inverted curve because its own forecasts imply it is an increasingly likely outcome. The Fed regularly publishes estimates of the "longer-run" level of the policy interest rate "under appropriate monetary policy" as well as forecasts for the actual level of the policy rate through the end of 2020. The latest FOMC projections show that most officials expect the central bank to be setting short-term interest rates at or above the "longer-run" level as early as 2019. Taken together, these forecasts imply the Fed will be lowering its policy target sometime in the 2020s. The question is by how much, and under what circumstances. Powell's response was brief but it gave some clues to the Fed's thinking. After acknowledging the yield curve's impressive record predicting recessions, he questioned whether it is still a useful signal. In his view, past instances of yield curve inversion were caused by "situations in which inflation was allowed to get out of control". The Fed had to choose between ever-accelerating price rises or a sharp recession. Back then, short-term interest rates rose above longer-term rates because the central bank was committed to slowing inflation down by whatever means necessary. Powell said "that's really not the situation we're in now". What situation are we in, then? Some of Powell's other statements during the press conference provide a clue. For years, the jobless rate was elevated and inflation was slower than desired as the economy gradually recovered from the financial crisis. The policy rate was accordingly set below policymakers' estimate of its "longer-run" level. Now the situation is set to reverse, with unemployment projected to be far below its "longer-run" level and inflation expected to be slightly faster than its target. Recommended Jay Powell fails to sway investors following the 'dot plot' Fed chair Powell sets tone with first policymaking meeting Jay Powell plays it safe in Federal Reserve debut If these circumstances materialise, a central bank equally "concerned with sustained or persistent deviations of inflation either above or below", in Powell's words, should set the policy rate above the "longer-run" level. Done properly, inflation would gradually slow back to target and short-term interest rates would eventually fall toward the long-term average. An inverted yield curve in the near future would merely be reflecting the Fed's "symmetric" approach to setting interest rates, rather than warning of recession. This has never been done before, but there are two precedents worth considering.
The most obvious analogy to today is the mid-1990s. After years spent slowly recovering from the collapse of a debt bubble, the Fed decided in 1994 that it was time raise its policy rate from record-low levels. Short-term interest rates rose by 3 percentage points in less than a year. The economy slowed in 1995 but there was no downturn. Inflation remained tame. One crucial difference: the yield curve never inverted, although it came close. Moreover, inversion was prevented because the Fed lowered its policy rate by 0.75 percentage point in 1995.
An older experience is also worth remembering: the one time the US yield curve inverted without a recession was in the mid-1960s. Back then, the Fed was trying to prevent inflation from accelerating in the midst of a military build-up, a massive expansion of welfare spending, and ultra-low unemployment. It failed. Recession was temporarily avoided, but inflation continued to accelerate for another 15 years. The Fed's challenge is to determine which story is more relevant. »