Le scandale automobile en Allemagne prend une importance de plus en plus grande. Nous dirions même déstabilisante; elle s'ajoute aux menaces de Trump.
Eurointelligence: the car emissions scandal yesterday spread to almost the entire German car industry. Audi's chairman is now under criminal investigation. And Daimler-Benz has to recall almost 1m cars. They all cheated, just as VW did.
---
L'Allemagne sera le grand perdant de la déglobalisation: la somme de ses échanges extérieurs, (imports+exports) représente 70% de son GDP
Ci dessous somme de la dépendance extérieure pour les grands pays: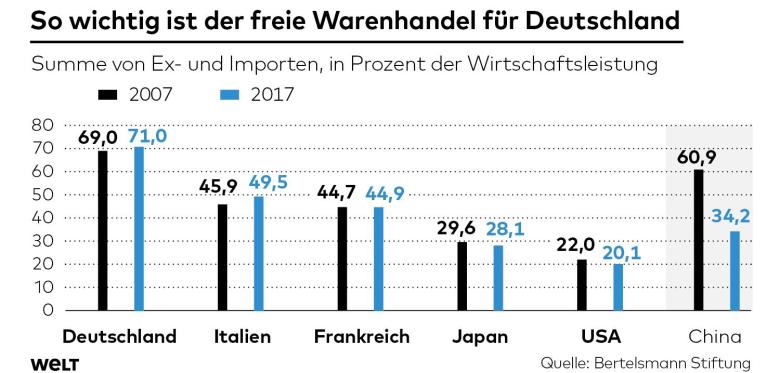 ---
Les Institutions internationales disent que les pays en voie de developpement ne peuvent se payer le luxe de Lois restrictives sur le travail
---
The World Bank and IMF say developing economies can't afford to have strong labor laws
---
Les traders sur les options font le pari que rien ne peut faire dérailler les marchés
The daily Put/Call Vol. Ratio sees its lowest reading since before the Jan. 26 top. Options traders expect everything to be perfect.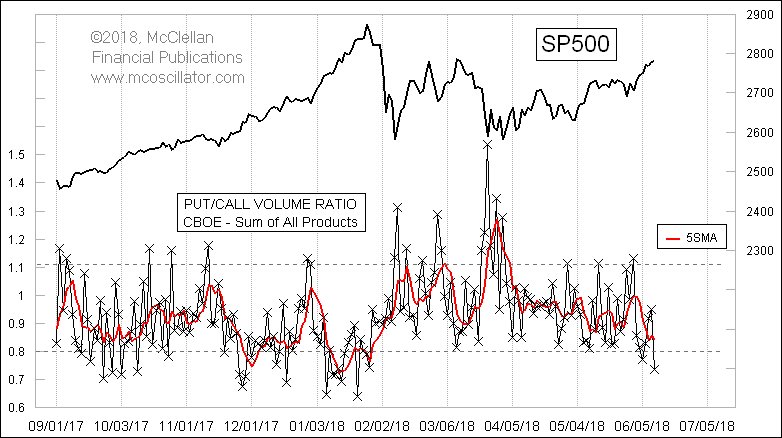 In signed document, Trump and Kim declare the U.S. president would provide unspecified "security guarantees" to Kim in exchange for the North Korean leader's "unwavering commitment to complete denuclearization of the Korean peninsula" https://bloom.bg/2LLH2cW  #TrumpKim
[Reuters] Trump says summit is 'very, very good', Kim calls it prelude to peace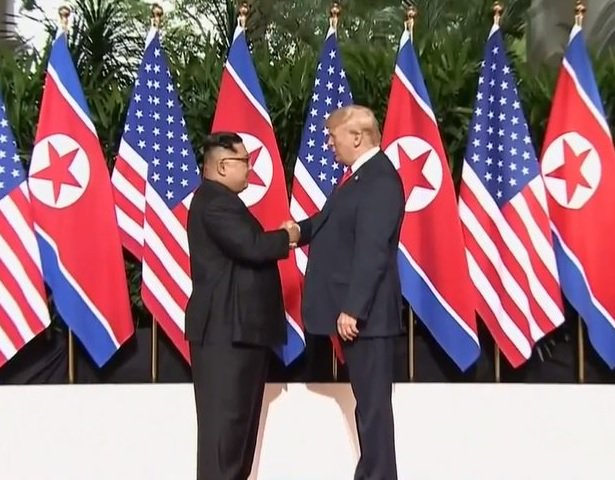 Lagarde: les nuages s'assombrissent surl'économie globale:
Le FMI:  "Crypto assets may one day reduce demand for central bank money.
[Reuters] Stocks choppy, dollar rises as historic Trump-Kim summit starts
[Reuters] Dollar at 3-week high vs yen, U.S.-North Korea summit in focus
[WSJ] U.S.-Canada Rift Roils Nafta Talks
[WSJ] The Fed's Biggest Dilemma: Is the Booming Job Market a Problem?
[FT] Macron resolute on trade as Trump bromance cools
[FT] Italian debt strife reveals pitfalls of Europe's market structure
Eurointelligence, Munchau , habiletés tactiques des responsables italiens 
The first days of the Five Star/Lega administration are giving us a clearer picture on where the priorities lie. No, they are not planning to leave the euro. They don't want to talk about economics much.
The battle lines are immigration and possibly foreign policy.
Matteo Salvini, in his new role as Italy's interior minister, yesterday secured a public relations coup with his decision to deny permission for a refugee ship to land in Italy.
The decision would have resulted in a major humanitarian crisis if Spain had not accepted the 629 refugees instead. It is not hard to see how Salvini could cause a major political crisis in the EU, which we believe is very much his intention. Italy has much stronger political leverage in this area than it does in economic policy.
The other big battle line will be on foreign policy.
We got a hint of that last week when Giuseppe Conte, Italy's prime minister, supported Donald Trump in his impromptu call to have Russia readmitted to the G7. This constituted an important signal to Trump that he can now split the EU.
We noted a comment by Antonio Polito in Corriere della Sera, who sees the internal dynamics of the new administration favouring the Lega. Salvini's role is to push while that of Luigi Di Maio, Five Star leader, is to appease. It's a game of good cop/bad cop with the advantage to the bad cop, he writes. He sees the possibility of a newly revived centre-right, under the leadership of Salvini.
Italy's bond yields dropped yesterday following an article by Giovanni Tria, the new finance minister, commiting to Italy's membership of the eurozone and to debt reduction.
We don't buy it, but see this instead as a tactical move to focus attention away from the fundamental incompatibility between the new government's fiscal priorities and the EU's fiscal rules.
The main lesson from the Greek standoff in 2015 is that any parallel currency scheme needs to be prepared well in advance, and that it needs sufficient political support. None of these conditions are in place in Italy now, and they may never be. But the underlying situation is not improving either. Italy's sustainability in the eurozone can thus not be taken for granted.
The German press, meanwhile, is focusing on the still-growing Target2 imbalances. Germany's surplus in May reached €956bn while Italy's deficit was €465bn, up by €38bn. The paper interprets the increase as caused by capital flight.