La Fed est de sortie
The big week for Federal Reserve speeches has its biggest day today with no less than five due. At 6:30 a.m., Chicago Fed President Charles Evans speaks at an event in London, Richmond Fed President Thomas Barkin is due at 8:05 a.m., Fed Governor Lael Brainard at 2:00 p.m., Cleveland Fed President Loretta Mester at 2:15 p.m. and, finally, Fed Chairman Jerome Powell will take part in a discussion in Washington at 4:00 p.m.
---
---
https://perspectives.pictet.com/2018/09/28/italy-tests-the-eus-tolerance/
---
---
---
Moins de craintes sur l'Italie après des déclarations contradictoires. Léger rebond.
---
---
Allemagne, jour de L'unité: jamais autant divisée!
AfD est le premier parti politique allemand en ex Allemagne de l'EST; si l'Allemagne n'a pas réussi à intégrer les Allemands de l'EST depuis 1991 alors qu'elle a dépensé des fortunes, il y a peu de chances qu'elle intègre les pays européens du sud alors qu'elle ne veut rien dépenser pour eux!.
---
Macron bubble is deflating this year as fast as it inflated last year –
---
Evolution de l'estimation des capacités de production disponibles dans le monde du G7 selon le FMI: très faibles.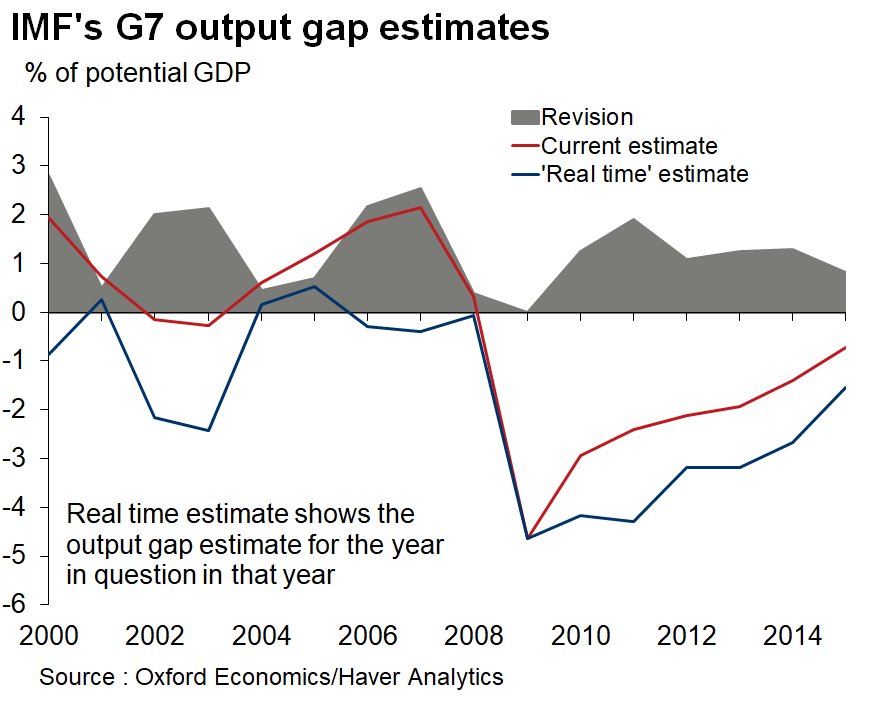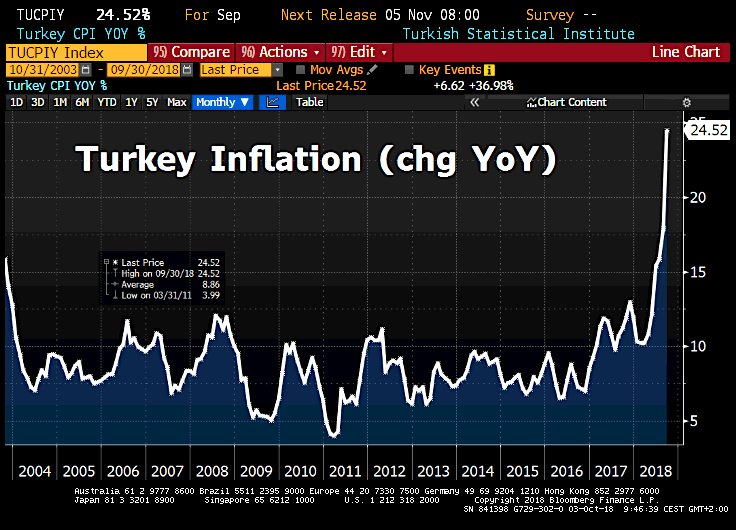 ---
[Reuters] Asia shares turn up, euro rebounds as reports temper Italian debt fears
[CNBC] India's rupee sinks to record lows. Its central bank isn't expected to save it
[BloombergQ] Italy to Bow to EU and Cut Deficit to 2% in 2021, Corriere Says
[BloombergQ] New Yorkers Are Listing Their Homes for Both Sale and Rent
[BloombergQ] How China's Peer-to-Peer Lending Crash Is Destroying Lives
[FT] Why the US-China stand-off is bad for investors
Rappel Tuesday evening
[Reuters] Dow closes at record but Facebook drags on S&P, Nasdaq
[Reuters] PRECIOUS-Gold jumps as equity sell-off triggers safe-haven bids
[Reuters] Powell: U.S. outlook 'remarkably positive' with low unemployment, tame inflation
[CNBC] Powell pledges the Fed will 'act with authority' if inflation spikes
[Reuters] September a 'tale of two hurricanes' for U.S. new car sales
[Reuters] Brazil poll shows far-right Bolsonaro beating leftist in run-off
[WSJ] Investors Fear Italian 'Doom Loop' as Bond Selloff Deepens
[FT] Fed chair Powell defends cautious approach to lifting rates