S&P donne un chiffre de dette globale de 200 trillions chiffre diffèrent de celui fourni par l'IFF. Chacun a sa façon de calculer.
«La hausse prévue de 14% de la dette mondiale par rapport au PIB en 2020 est peu susceptible de provoquer une crise de la dette à court terme, à condition que les économies se redressent, que les vaccins soient largement distribués, que les taux d'intérêt restent très bas et que le comportement d'emprunt se modère», indique le rapport
Le communiqué Reuters :
Global debt is set to reach $200 trillion, or 265% of the world's annual economic output, by the end of the year, S&P Global has forecast – although it doesn't expect a crisis any time soon.
The credit ratings giant said it amounted to a 14-point rise as a percentage of world GDP, having been amplified by both the economic plunge caused by COVID and the extra borrowing that governments, firms and households have had to resort to.
"Global debt-to-GDP has been trending up for many years; the pandemic simply exacerbated the rise," S&P's report said.
Yet, despite the big jump and an expected wave of defaults over the coming year, the firm does not expect a major crisis at this stage.
"The projected 14% surge in global debt-to-GDP in 2020 is unlikely to cause a near-term debt crisis, provided economies recover, vaccines are widely distributed, interest rates remain very low, and borrowing behaviour moderates," the report said.
As long as the world economy gets back on its feet after the pandemic, the global debt-to-GDP ratio should ease back to 256% by 2023, S&P said.
"We expect the debt growth of corporates, governments, and household to ease as they tend to after recessions," it added.
le poids du Bitcoin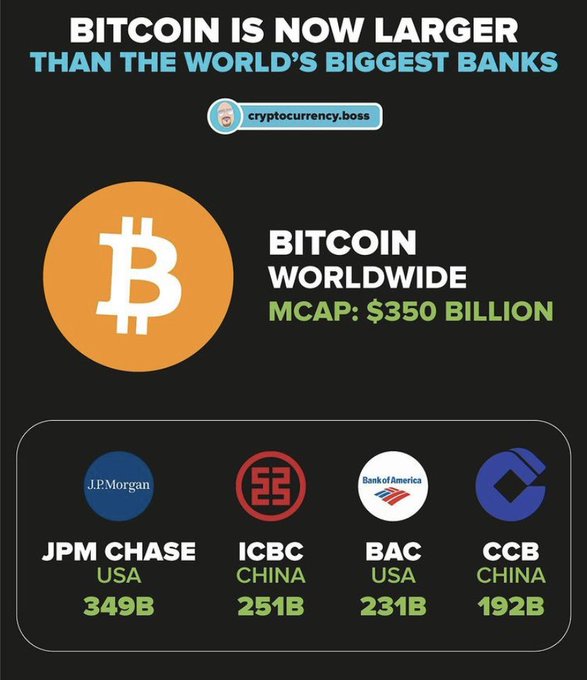 Si l'inflation etait bien calculée elle serait bien plus élevée
Les taux du 10 ans flirtent avec les 1%, plus haut de 8 mois.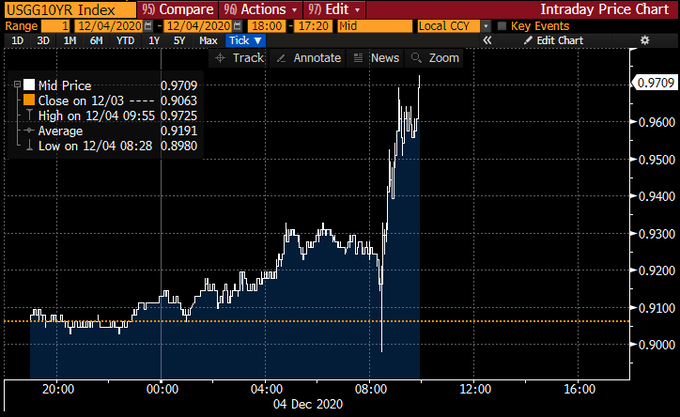 [Yahoo/Bloomberg] Stocks Higher After November Jobs Report: Markets Wrap
[Reuters] Dollar hits two-and-a-half-year low on risk-on trades, shares buoyant
[CNBC] Employment growth slows sharply in November amid coronavirus surge
[Reuters] Analysis: As stocks soar, government shutdown looms amid pandemic
[Reuters] U.S. trade deficit widens less than expected in October
[Reuters] Global debt to hit $200 trillion – S&P Global
[CNBC] Coronavirus live updates: U.S. posts daily records in cases, hospitalizations and deaths for the first time since spring
[Yahoo/Bloomberg] Europe Vaccination Plans; U.S. Sees Record Cases: Virus Update
[AP] US intelligence director says China is top threat to America
[Reuters] Some Sino-U.S. relations damage 'beyond repair', Chinese state media warns
[Yahoo/Bloomberg] China State Firms Once Deemed 'Safe' Now Rocked by Defaults
[Yahoo/Bloomberg] Cnooc Among Four China Firms Cited by U.S. for Military Ties
[CNBC] Pandemic-induced options trading craze shows no signs of slowing down
[Reuters] Analysis: Is a post-COVID currency war coming?
[WSJ] Weather-Upending La Niña Is a Headache for Farmers Around the World
[FT] Investors seek inflation protection as economic optimism rises