Lisez notre dernier éditorial, il parle de l'impossible diversification dans le politiquement correct.
Et celui ci:
Editorial. Les élites jouent aux dès votre Trésor; votre retraite. https://brunobertez.com/2020/02/10/editorial-les-elites-jouent-aux-des-votre-tresor-votre-retraite/… via @wordpressdotcom
---
---
---
But, don't worry, folks: the
#PBOC
can pump enough money back in to ensure that no lives are lost, no prospects damaged, no wealth reduced, no capital destroyed. It's magic, you see. Just buy the
#CSI300
and don't fret.
---
---
Pendant que Londres classe le nouveau coronavirus en « menace grave et imminente pour la santé publique », l'UE prévoit une réunion dans 2 jours pour prendre une décision.
---
---
L'économie réelle, ce sont les commodities, l'imaginaire, c'est la bourse et le S & P 500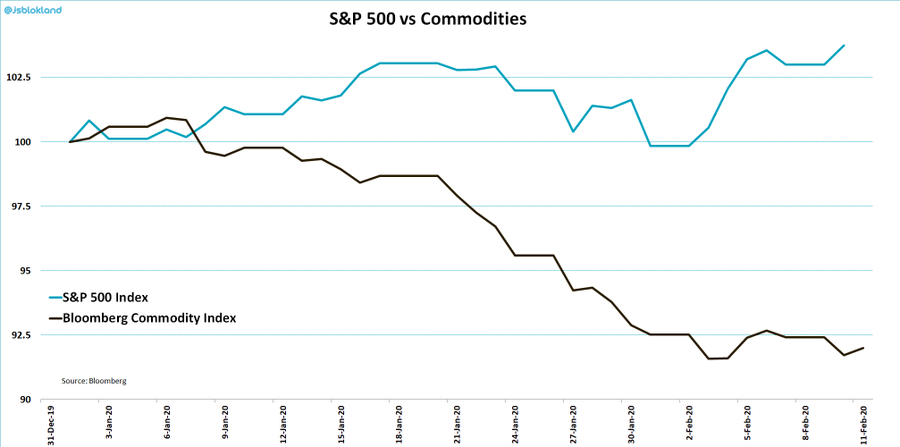 « Market Sentiment Positive as Virus Fears Recede | Webinar »
[Reuters] Wall Street subdued as investors weigh coronavirus risks
[Reuters] Coronavirus uncertainty subdues global shares, dollar eases after rally
[Reuters] Oil slips on weaker Chinese demand, traders await OPEC+ cuts
[Reuters] Metals – Zinc sinks to multi-year low on inventory jump and China fears
[Reuters] China slowly returns to work as coronavirus toll hits daily record
[CNBC] Coronavirus live updates: China's international profile could diminish, Fitch says as death toll tops 900
[CNBC] Inflation in China is running rampant because of the coronavirus
[Reuters] China's producer prices break deflation spell but coronavirus risks grow
[Reuters] Top Apple iPhone maker Foxconn restarts key China plant with 10% of workers: source
[AP] Trump budget to face skepticism, overwhelming politics
[Reuters] Coronavirus cases outside China may be 'tip of the iceberg': WHO
[Reuters] Sixty more people confirmed with coronavirus on cruise ship in Japan: media
[MarketWatch] Merkel's designated successor, Kramp-Karrenbauer, to quit after vote fiasco
[Bloomberg] 'Nightmare' for Global Tech: Coronavirus Fallout Just Beginning
[Bloomberg] China Inflation Accelerates on Holiday Demand and Outbreak
[Reuters] China 2019 fiscal spending up 8.1%, faster than economic growth
[Reuters] Taiwan scrambles armed jets as Chinese air force flies around island
[Bloomberg] China Virus to Spur Yet Higher Prices as Farm Links Disrupted
[Bloomberg] China's Hurting Banks Brace for Worst-Case Economic Scenario
[Bloomberg] China's Stressed Borrowers Face Wall of Debt Coming Due in March
[Bloomberg] China's Virus-Stricken Cities Remain World's Biggest Ghost Towns
[Bloomberg] Coronavirus May Infect Up to 500,000 in Wuhan Before It Peaks
[Bloomberg] Hong Kong Is Showing Symptoms of a Failed State
[FT] Xi Jinping faces China's Chernobyl moment